STEPPING N2 SISTERHOOD CANTON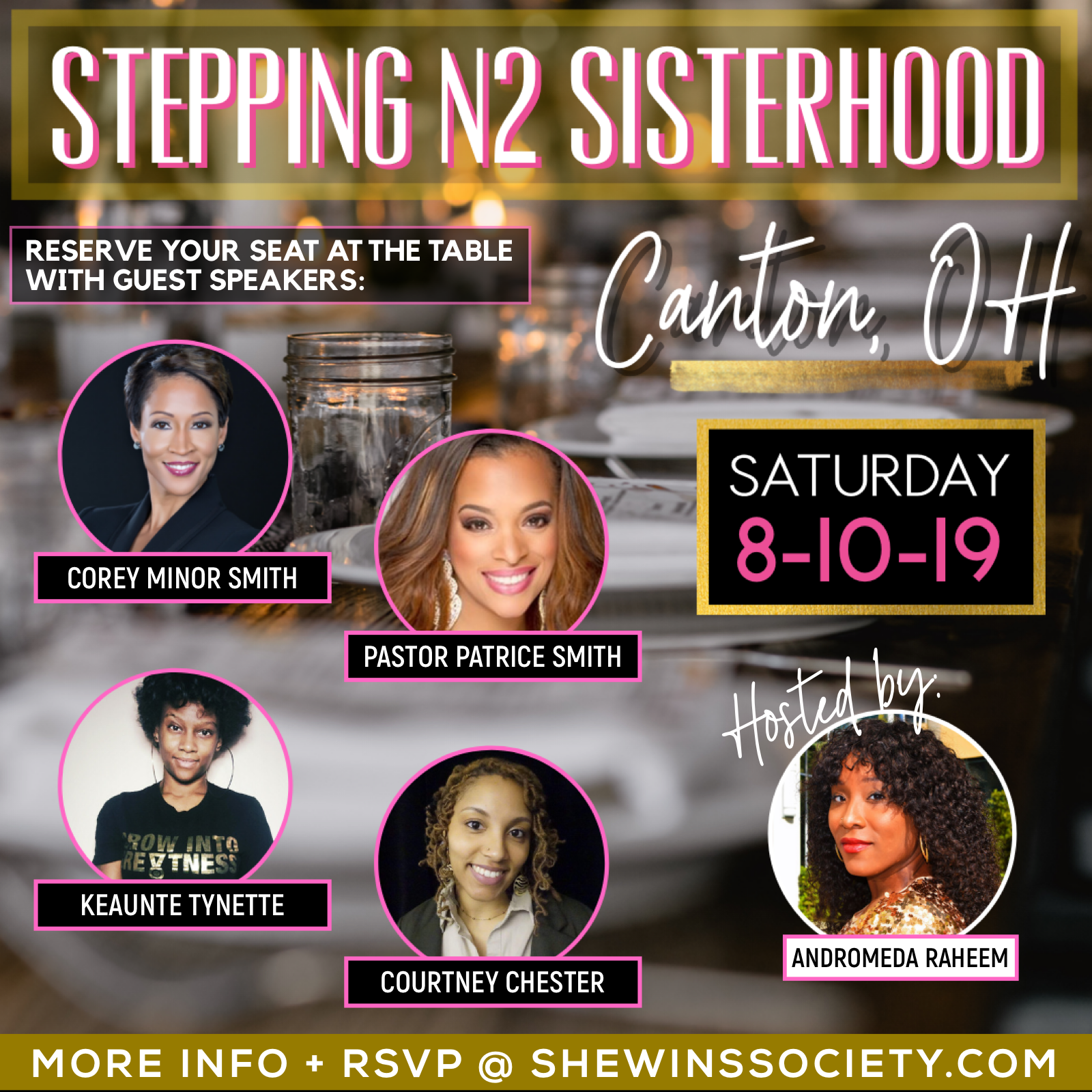 STEPPING N2 SISTERHOOD CANTON
Our stops in Los Angeles, CA and Atlanta, GA were a huge success! Now we're headed to the next stop on the Stepping N2 Sisterhood Tour… CANTON, OH!
Stepping N2 Sisterhood is not just a women's empowerment event, it's also a celebration of women as we highlight the power that women have when we support each other and work together!
You are invited to join us on Saturday, August 10, 2019 from 12 - 4 PM for an afternoon of unfiltered conversations on personal growth and professional development with success-minded women at a 4-star restaurant.
This intimate event will allow you the opportunity to make genuine connections, feel the power of true sisterhood, and experience the possibilities of what we can accomplish when we choose to support each other and work together.
Each guest will enjoy a delicious lunch in a beautiful location and have the chance to learn from and spark valuable connections with successful women in various industries who will share their stories of overcoming personal and professional challenges and winning on their own terms.
Your Ticket Includes
A Seat at the Table with Powerful and Successful Women
A Full Course Lunch with Wine at a 4-Star Restaurant
Opportunities to Learn, Network, and Spark Valuable Relationships
Meet Your Host
Andromeda Raheem: Featured in Rolling Out, The Huffington Post, Sheen Magazine, and numerous other reputable publications, Andromeda Raheem is a powerhouse who has dedicated her life and career to empowering and uniting women. As an empowerment coach, girl power advocate, Founder of She Wins Society, author of She Wins: The Ultimate Guide for Women to Gain a Winning Mindset and Lead a Winning Lifestyle, and motivational speaker, Andromeda hosts and speaks at events around the world for the purpose of empowering women to manifest the life they deserve and live up to their full potential. As she has a heart for seeing women do and be their best, she shares daily motivational messages with thousands of women on social media in an effort to encourage women to tap into their power and live their best lives.
Meet Your Speakers
Corey Minor Smith: Corey Minor Smith earned a Bachelor's Degree of Arts in English and a Master's Degree of Education in Guidance and Counseling from Bowling Green State University. Corey then earned her Juris Doctorate from the University of Toledo College of Law and is now a member of the Ohio and Georgia bars and licensed to practice before the United States District Court of the Northern District of Ohio. Currently, as General Counsel for Stark Metropolitan Housing Authority (SMHA), Corey represents SMHA in civil and administrative proceedings in addition to an array of complex labor relations, contract and land transaction matters. Nationally, Corey was a panelist at the Housing and Development Law Institute conference in Washington DC. Internationally, Corey presented in Cape Town, South Africa during the Southern African Housing Foundation Conference as a delegate of the United States. The Canton Oldtimers Ladies Auxiliary Club honored Corey with its Phenomenal Woman Award, she was named one of Stark County's Twenty Under 40! and an ATHENA International Women's Leadership Finalist. The Boy Scouts of America Buckeye Council also honored Corey with the Spirit of Scouting Award, she was inducted into the YWCA Women's Hall of Fame, Class of 2016 and she received the 2018 Woman of Courage Award from She Elevates. Corey's current community activities include being a transformational speaker, a member of the Honorable Judge Ira Turpin Scholars Recognition Committee and the Akron-Canton Barristers Association. In addition to being a proud member of the Stark County Alumnae Chapter of Delta Sigma Theta Sorority, Incorporated, Corey is the first African American female to be a candidate for Judge in the Canton Municipal Court and received 30% of the vote against a 20+ year incumbent. Subsequently, Corey was elected to the Canton City Schools Board of Education after receiving the most votes out of five candidates. Corey also served as a Canton City Council at Large member after receiving the most votes out of six candidates. She is the first African American to ever be elected to a city-wide position in Canton, OH. Corey has two sons, Jaylon and Jordan and lives in Canton, OH.
Pastor Patrice Smith: Pastor Patrice A. Smith, a native of Akron, Ohio is the wife of Pastor Mayceo Smith, II, proud mother of Mayceo III and Maya Capri. She serves as the Associate Pastor of City of Joy Life Enrichment Center. Pastor Patrice was licensed by the Pentecostal Assemblies of the World in 2006 becoming ordained as a Pastor in 2014. Pastor Patrice strives to be the example of a virtuous woman who is yielded to God in every area of her life. Filled with a passion for teaching and prayer, the Lord has opened doors of opportunity producing excellence in all her ministries. Pastor Patrice has a heart for God's people, this burden caused the birthing of "iPrevail" Ministries. iPrevail is designed to empower and inspire men and women alike to reach their fullest potential in Christ through seminars, retreats and conferences. Due to its success iPrevail has extended its reach by implementing a mentoring program. In addition, being an accomplished conference host, motivational speaker, prayer warrior, mentor and preacher, Pastor Patrice is a trusted Community Leader. She serves as the co-visionary of the 5o1c3 nonprofit organization Unity in the Community of Akron LLC. Unity in the Community was started to honor the memory of her brother, who was tragically killed in 2010. Her work in the community captured the attention of the Emmy nominated TV show the American Bible Challenge where she and her team mates placed 3rd raising over $27,500 for Unity in the Community. Pastor Patrice's commitment to women and the community assisted her in recently being crowned Mrs. Summit County, representing her hometown in the Mrs. Ohio Pageant. As a successful entrepreneur she is the owner/operator of PS Boutique and Managing Partner of COJ's LA Soul Buffet. While very grateful for every opportunity, Pastor Patrice's missions in life are to hear 7 words from God "well done thy good and faithful servant" and to be wrung dry of every bit of potential God has placed inside of her.
KeAunte Tynette: KeAunte Tynette was born and raised in Massillon, Ohio. In 2006 KeAunte went to Wright State University in Dayton to obtain her degree in Early Childhood Education. Moving back to Massillon years later KeAunte became the lead teacher at the Massillon YMCA preschool. During this time KeAunte was going through depression but no one ever knew because she had a smile on her face. She is known for her smile. In 2015 KeAunte Tynette became the founder of BeYoutiful Weirdo LLC mentoring program located in Massillon, Ohio. She knew that this is what God had planned for her to do. Serving over 100 girls in the community, working within the schools to reach out to girls to help build confidence, reach goals and learn leadership skills. Along with helping girls KeAunte Tynette published A Positive Life is A Happy Life daily motivational journal. She is the 2019 Ruby Award winner.
Courtney Chester: Courtney Chester is the Executive Director of The Martin Center, a local community center seeking to serve the underrepresented youth of Canton City. She is a proud wife of seven years to Nathaniel Chester III and devout mother to four beautiful children, Jayla, Nathaniel IV, Rylie and Michael. Courtney graduated from The University of Akron, earning a Bachelors Degree in Organizational Supervision with a minor in Child Development. She is currently working on a Masters degree in Clinical Counseling and embracing every opportunity to give back. Courtney has a heart for empowering women from all walks of life.
Location
La Pizzaria
3656 Dressler Rd NW
Canton, OH 44718
Dress Code
Cocktail Casual
For inquiries about vendor or sponsorship opportunities, please email hi@shewinssociety.com.
Tickets are transferable, but non-refundable.